The perfect over 55 community in Santa Clarita
Friendly Valley offers the active senior the finest in independent living.  If you're ready to quiet down but not slow down, Friendly Valley Country Club is the ideal senior living community for you.
When compared to other over 55 communities in Santa Clarita, Friendly Valley offers something for every lifestyle. Created on over 200 acres and surrounded by oak tree's, residence of this community have more fun and stay young at heart.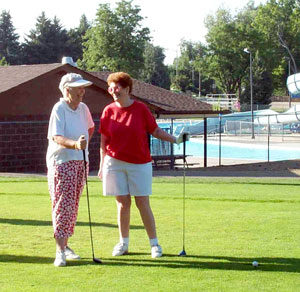 Gated Senior Community
Friendly Valley is a gated community that offers seniors an active lifestyle in a well-maintained environment.  This independent community has fourteen homeowner associations that are responsible for maintaining the high quality of living in our community.
Private Golf Community
This community is perfect for the active senior who enjoys golf and other hobbies. The clubhouse features a large swimming pool, shuffleboard, and horseshoes. For those that like to stay in shape, we have a gymnasium with exercise equipment including aerobics and cardio classes.
RV Parking
One of the main benefits of living in Friendly Valley, is our large RV parking area. Residences can take advantage of this feature for a small annual fee. Your RV will be safe and secure as we offer 24-hour roving guard service.
Local Area
For those that like to get out and enjoy shopping and restaurants, our tram service can provide transportation within a 5-mile radius of the community. This gives you a chance to get out to do some shopping and enjoy time with friends.
When it comes to senior living communities in Santa Clarita, Friendly Valley offers a large variety of fun. This is resort style living at its best. The residence enjoy an active lifestyle along with warm and friendly neighbors.
If you're ready to start living the good life, Ellie Lacy is your Friendly Valley expert. Whether you are looking to purchase a home for yourself, or a loved one I can help you select the perfect home in this community. Contact me today (661) 341-6226